Robert Aldrich's Kiss me Deadly
(narrative analysis)
Kiss me deadly is an adaptation of a Mickey Spillane's novel, and an investigation by the famous private eye character Mike Hammer. It is a controversial film noir from 1955, build on the Cold War and H-Bomb fear background. This film explores a corrupted, violent and nasty world, where the atomic preoccupation and fascination are everywhere, and where the only rule is "the end justifies the means", as we will see.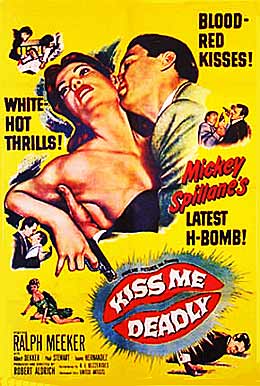 The story takes place in Los Angeles. The young Christina Bailey and some friends discovered an awful secret. The knowledge of this secret will conduct all of them to death. Christina, who became mad after discovering the famous secret, was put in an asylum where she escapes. She stops a car on the road, Mike Hammer's car. She tells him "Remember me", before being attack by a mysterious group. Hammer assists at Christina's murder. After these men tried to make them disappear, Hammer wakes up at hospital, decided to learn why Christina died, what she meant by "Remember me", and what is the big plot behind that case. For this, and with the help of his mistress/secretary Velda, he will interrogate (more exactly bully) witnesses or friends, and protect Carver, Christina's roommate, who is actually a spy send by the mysterious group. She takes the so sought secret, a box, and takes it back to her boss, Dr. Soberin, who refuses to share, so she kills him, shoots Hammer and open a box full of atomic components, which kill her. Hammer, injured, escapes with Velda's help, but they still are under the atomic danger.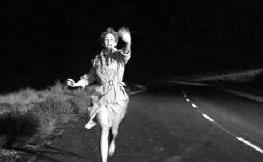 Kiss me Deadly respects a linear order, we discover in the same time as Mike the plot, discoveries and revelations, and so the horror and the menace above their heads. Even with this linear order, some moments of suspense are created, most of them by the accumulation of tensions and the realization by the characters of the presence of a huge menace. The most important of them is created by the discovering of the box. We know something strange and nasty is in it. When Carver steals it, and then kills Dr. Soberin, we ask to ourselves if she will open it, what it contains, if Mike will arrive in time… We are in the expectation of something awful will happen, but the truth is much awful that what we can imagine. Other suspense is created by the apparition of the pure evil of the movie, the big villain, Dr. Soberin, represented by his shoes. When we see these shoes, we know sometimes terrible will happen, in scenes like Nick's killing, a character who doesn't know what these shoes mean, completely disarmed. We perfectly know what will happen, we just look how.
But at the same time, Kiss me Deadly is full of surprise, people who return their vest suddenly, like when we discover Carver was a spy, or when this apparently fragile girl is a cold-blood killer. There is a lot of brutal violence intrusion too, like when the car blocks the road at the beginning, meaning the violence enter in the plot. These moments of surprise and suspense are always here to symbolize a new emphasis of violence in this already pessimist and corrupted world, destroying all the characters who can give us some faith on humanity : Christina who trying to protect the world of the horror of the box, and Nick who was the only optimistic and funny character.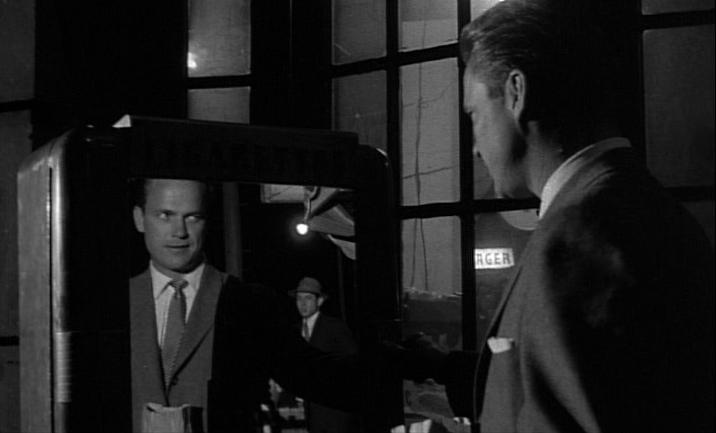 Most of the events gravitate around death, murders and destruction. First, Christina's (and almost Mike's) murder after the desperate hitchhiking, include the torture scene, is indicative of extreme cruelty acts. Then, satellites events like the attack on the street, the autopsy room or the Hollywood Athletic Club scene reveal a main character, who has to be a hero, completely the opposite of the principles of heroes, taking pleasure to violence. He takes part of this cruel and nasty world he has normally to fight. No characters escape of this world of violence, and being victims, and so died, or being performers, and so be shoot by nastiest performers that them.
When you watch the major characters, no one as good sides, all of them are manipulators, making everything if that can help them to attempt to their goals. Mike has to be, normally, on the side of the law, but use every times violence to obtain the information he desires. His depraved life and his trend to abuse of everybody, especially weak people (quite all the men he visits to obtain information about Christina, and especially the old man at the Hollywood Athletic Club office) clearly not give us the impression to see a hero. (Schingle) Carver, the femme fatale, is ready for everything, she is cupid, greedy of power, and a wonderful liar. Dr. Soberin is inhabited by a gigantic cruelty, and not ounce of pity, and like the others, a cold-blood killer, but who is catch at his own game to have believe, like Mike, the liars of Carver.
The minor characters are the victims, or the characters manipulated by major characters. Like say above, Nick and Christina were the only lightning of good in this cruel and dark world, both were assassinated.
You have other minor characters who are just the performers of the major characters' desires. Velda is also a victim, in her case of Mike's influence and wants, but she is not pure too. She uses her body to collect information or potential witnesses for Mike. She is a sort of femme fatale for these men she influences. Sugar Smallhouse and Charlie Max are just here to execute Dr. Soberin orders, that means doing the dirty job, torturing and killing people.
The point of view is majority Mike's point of view, emphasis by the use of leitmotiv like the shoes, and trying to find Dr. Soberin by recognizing his shoes, or with some subjective point of view shots, like when he wakes up at the hospital and sees Velda's face, or with some indirect subjective point of view shots, like all the shots on Dr. Soberin shoes. We see his abuse of corruption in every spheres, his love for violence clearly much important than his love for law, but also his effort to discover the truth, finding the guilty guys and making justice by himself. But there is some exceptions for some sequences. For example, in the first sequence, before meeting Mike and designating him has the main character, the beginning of the film is seen by Christina's point of view, lost, alone in the dark, assaulted by car lights and speed, close to the camera and reverberant her fears through it. Even in the very beginning we already undergo violent attacks through Christina's perception. Then, we have Nick's death shows by Nick's point of view, with the very strong indirect subjective point of view shot which symbolizes the car crushing him. Nick was the only character who never suspect violence, that is why he finishes literally crushed by this violent world. In the scene in Velda's flat during the night, we follow Velda and her realization that Mike who doesn't care about her and the effort she makes to help him. She is, at her turn, victim of this world where you don't have any place for attention or pamper. Then, the last sequence is, for the first part, viewed by Carver/Gabrielle's point of view, which finally reveals to us her true nature as the worst character in this world of ruthless anti-heroes, and well punished by her own cupidity, but who have maybe condemned the rest of the world to an apocalyptic situation, as it is supposed in many reviews and analysis (ex : Westcombe).
Even if the story is extended on a complete month, because of the hospital stay, the plot is really short, less than one week, with every day some acceleration, a faster fall into this atrocious and cruel hole to arrive at the discovering of the box who shake everything which was established, and push us to this apocalyptic and hopeless ending.
Some elements come back to a certain frequency. The shoes as the prove of the presence of the villain, Dr. Soberin, as already say above, or the two last words of Christina "Remember me" as a reminder of the big plot the characters have to resolve. "Don't forget you look for something".
In this background of Cold War, doubt, fear of communism and paranoia, and with the use of Los Angeles Area, Vice City, we are posed directly in an uncomfortable position in the setting, undergoing all the tensions, exploring all the possibility of betrayal and of conspiracy. Between all of this paranoiac and manipulative background elements, you have the perfect frontage, exponent luxury taste and style. The group of thugs possesses at least a huge house with a big swimming pool and the big house on a Californian beach. Velda as a great and well furnished flat for a simple secretory. And Mike uses all the external elements of the playboy : cabriolets, a soft and modern flat, bright costumes…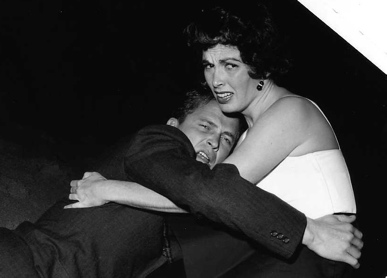 As explain above, even if the story duration is a bit long, the plot is really short and precipitate. The setting just stay in a quite short area, Los Angeles and around, exploring principally some places like Mike's flat, Velda's flat, Dr. Soberin's beach house, Nick's garage, but add multiple little places, the first furnished with some indications of location, but when the investigation starts to take some speed, we can't situate them clearly, they are too numerous and without any indication of where they can be, like the morgue, the museum… This world spirals on itself, preparing its near destruction. The multiple perspectives, even if you have one major, allow us to take some advantages on the main character by knowing before him key elements or spoilers; advantages we will never have with the major perspective, because it is Mike's perspective, he cannot be spoil by himself. So we know before him Nick's death, and we see clearly (as much as the censorship allowed it) his murder, but finally, we know something Mike doesn't care. His impulsiveness pushes him to not pay attention to events, but on the why and, primary, on the desire of vengeance… And of violence. We know before him for Gabrielle/Carver double-betraying, first against Mike by manipulating him, and second with Dr. Soberin, and her fascination for Power who pushes her to commit everything, including the worst, to access to the end.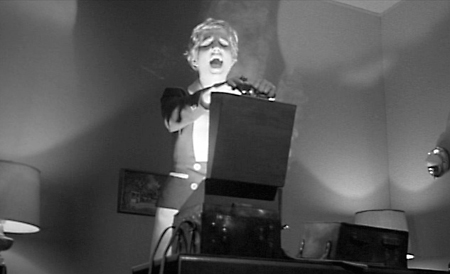 From all these elements emerge a sensation of instability behind a perfect surface, of a world corrupted and rotten by inside, where nobody is good, or eliminated if he has a part of good on him. All this nasty and already condemned world bathes into murders, violence against weak people and innocents, with intrusion on their peaceful part of world, which is automatically corrupted at its turn, and conduct these characters most of the time to rude confession, and sometimes death. All this world is build on the idea of doing everything if it can be justify by the end. This world of free and unjustified violence is due to a psychotic background of the fear of atomic power, which is achieved at the end, with the discovering of the contain of the box, and so which was the great fascination of the characters during all the movie, even if they didn't know yet.
Aldrich offers us a psychotic a destroyed world, reflecting of all the fears of his actual society, a society of denouncement, violence and atomic power corroded by inside and which is struggling between this dark and decayed underworld and a facade of stability. Kiss me Deadly is a pessimistic film, which offers no possibility of redemption or escape, whatever if you are good or bad.
***************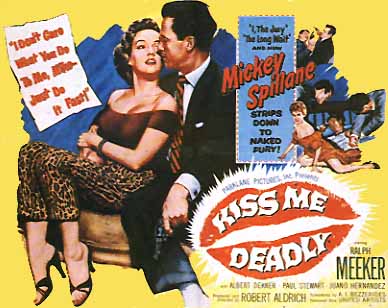 Bibliography :
Bryan Schingle. Kiss me Deadly review. Web. Thrillingdetective.com. May 2004.

Roger Westcombe. Kiss me Deadly review. Web. Bighousefilm.com.

J. Hoberman. The Thriller of Tomorrow. Kiss me deadly's DVD supplement booklet. Criterion Films, 2011.

Robert Aldrich. You can't hang up the meat hook. Kiss me deadly's DVD supplement booklet. Criterion Films, 2011. (Article of 1955)